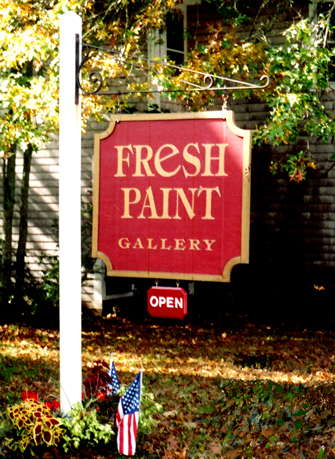 We are very grateful once again, to the artists of Fresh Paint Gallery here in the charming village of Yarmouth Port, for allowing us to exhibit some of their paintings in our breakfast room this season. Our guests can admire the works of five prominent local artists, including Claire Marcus, Robert Mesrop, Selma Alden, Ann O'Connell and Julie Blanchard.
Many of our guests spend some time in the Fresh Paint Gallery, which is just a short stroll from our inn. This is one of the leading art galleries on Cape Cod, with exhibits on two floors in oil, acrylic, pastel and mixed media. It is certainly worth a visit, and is one of several interesting attractions in the village.
Come rain or shine, there is plenty for visitors to enjoy, from the 48 historic Sea Captains Houses and two museums to the breathtaking natural beauty of  Cape Cod Bay seen from our boardwalk or from the old Wharf, which are both  a nature lovers paradise.
So the formula for an enjoyable and relaxing few days is irresistable; why not add yourself to the growing number of people who share this view, having sampled the delights of historic Yarmouth Port. There are some great B and Bs in the village, and you never know…….. perhaps we can even tempt you to stay with us!